Product Description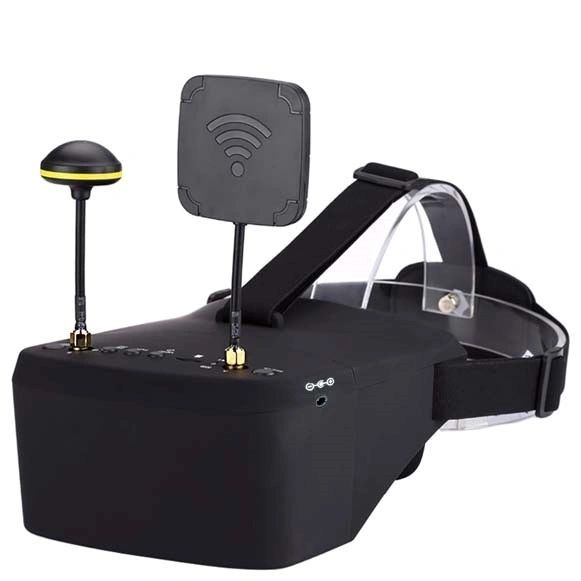 EV800D 5.8G 40CH Diversity FPV Goggles 5 Inch 800*480 Video Headset HD DVR Built in Battery
Please contact us for b2b invoice
Please note its not the Eachine make but made by the same manufacturer . Its diversity receiver is of better quality.
EV800D Goggle:
Features:
With DVR, you can record videos anytime and anywhere;
Low power consumption;
Diversity module reception to make the signal more stable;
Auto-Searching, support a key search frequency;
5 Inch 800*480 dot high brightness LCD screen;
Built-in super sensitiveness 5.8GHz 40ch receiver, especially with RaceBand;
Built-in 7.4V/1430mAh high-capacity Li-ion polymer Battery;
Universal DC055 charging interface;
Real-time video return, Very low time-delay;
The menu supports 8 languages;
Support external video signal input;
Support Audio signal output (You can connect headphones)
Description :
ModelName5.8G FPV GogglesLCD ScreenScreen size:    5 InchResolution:    800*480Display Ratio:  16:9View Angle:    6 o'clockBrightness:    300cd/m² with high brightness backlight LEDVideo delayVideo time-delay less than 20msLens2.8X Fresnel Lens, 92% transparent rate no distort of lightInterfaceAntenna2 X RP-SMA maleDC055To charge the batteryAV JackExternal video signals input or internal Audio signal outputCard slotTF-Card, Support up to 32G(C10 recommend)DVRREC size:    VGA / D1 / HD               SelectableREC sound:  ON / OFF                   SelectableREC time:   OFF / 3min / 5min / 10min     SelectableFrame rate:  30 FramesCompress format:  MJPEGRecord file format:  AVILanguagesEnglish,German,French,Spanish,Italian,Chinese,Russian,JapanesePower
Supply
Power adapter:  DC12V/2A (DC055 interface)Battery:  7.4V/1430mAh,
DVR module ON: Each full charge revive around 2.5hr working time
DVR module OFF: Each full charge revive around 3.5hr working time
Power Consumption:
* Normal mode: The device operating current of 400mA at 3.7V;
* Record Mode : The device operating current of 620mA at 3.7V;
* Built-in battery maximum charge current of 800mA;
WirelessFrequency Table(MHz)CH1CH2CH3CH4CH5CH6CH7CH8Band A58655845582558055785576557455725Band B57335752577157905809582858475866Band E57055685566556455885590559255945Band F57405760578058005820584058605880Band R56585695573257695806584358805917BodyDimension:  180mm * 140mm * 84mmWeight:     410g(with headband, not included antennas)
Note: Cannot record video input from AV port.